PVC decking is unique as composite decking because it contains no organic material but is made entirely from polyvinyl chloride. Made without organic material, it last longer and is lighter than wood composites.
But not all PVC decking is the same. Raising the question. What is the best PVC decking?
When evaluated in five key areas, the best PVC decking is a tie between Zuri and TimberTech Azek PVC decking.
Zuri scores highest in Appearance, Traction, and Durability compared to other PVC decking.
TimberTech Azek Vintage collection scores high in Appearance, Warranty, and Durability. TimberTech also has two more PVC collections, Landmark and Harvest, which score better for cost than Vintage but with some trade-offs.
In direct comparison, the biggest trade-off between the two is Traction vs Warranty. If slip resistance is paramount, Zuri is the better PVC.
If extended warranty is critical, Azek is on top.
Of course, there are other elements like price when deciding on the best PVC decking. I will get to but keep these two brands top of mind as we sort through the many PVC decking brands.
What is PVC Decking?
PVC decking is formed from polyvinyl chloride (PVC) and high-strength plastic containing no organic material. The PVC is often mixed with a foaming agent increasing its strength while decreasing weight.
Often PVC decking is finished with a polymer cap, that enhances the board's appearance and durability. But some decking brands cap their PVC decking with acrylic instead of polymer because of its increased durability.
Most Popular PVC Decking Brands
The first PVC deck I built was TimberTech Azek. I was impressed with its quality and started wondering if there are other PVC decking out there?
There are well over 20 PVC decking brands on the market. But 6 companies have reason to the top becoming the most popular PVC decking brands
Has 11 different colours grouped into 3 collections Vintage, Landmark and Harvest. Vintage has a wire brushed finish. Landmark and Harvest a cathedral wood grain pattern.
All three come with a 50-year fade, stain and structural warranty.
Being PVC they hold out the promise to be 30° cooler than composite decking.
Along with 40% more slip resistance. Which with the Vintage collection is a decent amount of grip, but the Harvest collection not so much. But both score low when compared to other composite decking for slip resistance.
Cost-wise, Azek is on the higher end for PVC decking. The Harvest collection is competitively priced with Trex Transcend composite decking but the Vintage collection is roughly 40% more, at around $6 to $7 a lineal foot.
2 collections, Hardwood and Earthtone including 10 different colours.
Clubhouse has one of the shortest warranties for PVC decking, 25 years.
For slip resistance, Clubhouse is one of the best-performing decking. When dry it's hard to find a more slip-resistant deck board, water does little to change this.
For cost, Clubhouse is one of the more affordable options with boards in the low $3 a lineal foot range.
Also has 10 different colour PVC boards in it 2 collections, Promenade and Paramount. Promenade is a fully wrapped board, capped on all 4 sides.
Regarding warranty, Fiberon PVC boards are backed by one of the best composite decking warranties at 50 years. Not the length but what is all included.
With traction Fiberon PVC is not the leader but being PVC perform quite well at 0.75 when wet.
Priced in the middle for PVC decking, around $5.50 a lineal foot.
Has 3 series (Architectural, Designer and Modern) with 12 colours.
Unique among PVC decking with Carbon Nanotechnology core finished with an ASA (Acrylonitrile-styrene-acrylate) cap. Or we can just say acrylic like the dashboard of your car.
With all this fancy material and design, it makes sense that TivaDeck PVC decking has a Lifetime warranty.
Not as popular as some of the other PVC brands you will need to call your local supplier for pricing.
Has 2 lines with 11 colours.
Warranty is fairly standard for PVC decking at 50 years.
Regarding traction, Wolf serenity is one of the better-performing PVC deck boards.
Where Wolf Serenity excel is cost or the lack of it. Priced under $4 a lineal foot. Allowing you to install PVC decking for less than most composite decking. Including Trex Transcend. Only 3-sided capped scallop composite deck boards will cost you less.
Only has 6 hardwood photo image colour boards. Limited compared to other PVC decking but a unique-looking board. Imitating hardwood more than deck boards in appearance.
Zuri PVC decking is similar to TivaDeck in that it is capped with acrylic. Their testing has shown it to be more durable.
30% more durable compared to other composite decking
5X more resistance to wear
The cap also helps Zuri to have one of the best slip resistances (0.89 – 0.97 wet) of composite and PVC decking.
Where Zuri falls short (all pun intended) are price and warranty.
Zuri only has a 25-year warranty.
But it is one of the most expensive PVC decking on the market.
Not only will you pay more for the decking, but it is harder to install increasing the cost of your deck.  
Enough general introductions let's get to discussing and evaluating each for key areas of performance along with some of the other PVC brands.
Every season it seems a new brand or line of decking pops up. If you come across a brand not on the above list, evaluate it against these brands in the following criteria and see how it stacks up.
It is possible you are holding the "Best PVC Decking" in your hand right now.
5 Criteria for Evaluating the Best PVC Decking
There are 5 elements of decking which we analyzed to find the best PVC decking.
I have found these as the most important factor to consider when building a deck. It does not matter what decking material you decide to use. These elements will make all the difference in how much you enjoy your deck.
Of course, there is a difference in maintenance between wood and synthetic deckings like composite and PVC. Which will make a huge impact on your deck enjoyment.
But having selected a low-maintenance decking, let's find out which PVC decking is the best.
Best Looking PVC Decking
Decking appearance is the most important and the most subjective.
If you don't like how your deck looks, it does not matter what price you paid for it or how long it will last.
But what you love, I may not.
My wife loves purple. I love the colour blue.
Who is right?
There is no clear answer.
The same is true with decking appearance. You want decking that you enjoy the look of regardless of what the experts think, some blogger or salesperson recommended. 
There is a wide array of appearances and colours among PVC decking brands.
Let's focus on the Top 6 Brands of PVC Decking to narrow it down. At least for appearance.
These 6 PVC brands together give us 60 different colours to choose between.
If you want the most PVC colour options, TivaDeck is for you.
TivaDeck has 12 different colours of PVC decking.
Starting with their Modern Series 2 PVC decking colours.  
Their Architectural Series has 4 colours with a classic hardwood look.
The Designer Series is heavily inspired by nature with 6 wood-inspired colours. With impressive attention to detail in the variegation.
But except for Zuri, all the PVC decking brands have 10 or more decking colours.
Zuri is the outlier with only 6 colours.
What sets Zuri apart is the appearance of those 6 colours.
Chestnut
Walnut
Pecan
Brazilia
Weathered Gray
Hickory  
Taking an entirely different approach to the other PVC decking.
"Decking that looks as amazing as exotic hardwood can also be high endurance and low maintenance."
Using photo-realistic hardwood image protected by a clear acrylic cap. Making their decking look more like hardwood than any other decking.
Picking the best-looking PVC decking will be subjective. But here is my summary
Zuri makes the most distinct PVC decking most closely resembling hardwood flooring.
TivaDeck will give you the most colour options for your deck.
Only 1 behind TivaDeck for decking colour options is TimberTech Azek decking. It is no hardwood, but I think the colour's depth and look are superior to most other PVC decking. I enjoy installing Azek for its beauty alone. It is one good-looking board.
But it will be up to you to decide which one fits your taste and deck.
Best PVC Decking for Slip Resistance
Decking traction is one of those underrated parts of decking. We all plan to walk on our decking, but it often slips our mind that traction is key to safely using your deck.
But the good news is that this is one area which PVC decking excels.
While researching for Composite Decking with the Best Slip-Resistance & Traction
,I discovered that most of the top-rated synthetic decking were PVC-based. The notable exceptions are MoistureShield and DuxxBak.
But the traction level of the PVC decking is not consistent.
Not an exhaustive list, but when your deck gets wet, Zuri and Evolve from Renew offer the most slip resistance. Keeping you on your feet as you hurry out of the rain.  
Rain is only one reason why your decking may need grip. Decking around a pool
or hot tub also needs superior grip when wet.
Clubhouse was the best choice for traction around a pool in my research. It also happens to be a PVC board.
It is still better than most composite decking, but Azek Vintage rates fairly low among its peer for slip resistance.
Making my number one pick for slip resistance a tie, Zuri and Evolve.
But close behind in third is Clubhouse PVC decking.
Best Priced PVC Decking
How much is it going to cost me?
A question we must all answer when buying decking.
How much you will pay for PVC decking will vary from region and store. But my research has given me these figures.
| | |
| --- | --- |
| Mid-Range Priced Composite Decking | Lineal Price |
| Serenity [Wolf PVC] | $3.00 – 3.75 |
| Harvest Collection® [Azek PVC] | $4.75 – 5.25 |
| Paramount [Fiberon PVC] | $5.20 – 5.80 |
| Clubhouse PVC | $5.50 – 6.50 |
| Zuri [PVC] | $5.00 – 7.75 |
| Vintage Collection® [Azek PVC] | $6.50 – 7.00 |
Making Serenity by Wolf the most cost-effective PVC decking.
Followed by Azek's earlier generation of PVC decking, Harvest. But Azek also has one of the more expensive PVC deckings. This may make you questions if the blending of colours is worth the extra money. Which is the one feature that sets Vintage apart from Harvest.
Paramount from Fiberon sits in the middle for PVC decking costs. Slightly more than Trex composite boards. But a better-looking and performing board.
But the cost of decking is not the only cost factor for your deck.
Fasteners can quickly increase the cost of your deck.
Here Wolf's Serenity is still a lower-priced option. Being installed with Camo Edge fasteners
. Giving you a nice clean decking finished without the additional cost of hidden fastens. Further saving you money.
PVC Decking with the Best Warranty
As a general rule, if you purchase PVC decking, you will get a long warranty, 50 years, sometimes referred to as a Lifetime.
PVC Decking Brands with Lifetime Warranties
Bear Board
Fiberon's Promenade & Paramount
Fortress Apex
Genova
Gorilla®
Lanai
TimberTech Azek
TIVADEK
Wolf Serenity
VECAdeck
This puts all these companies in contention for best PVC warranty.
There are a few exceptions that are only warranted for 25 years.
If you have heard me talk about Zuri before, you know what I am about to say. The testing and the performance are not reflected in the warranty. Zuri, for sure and possibly Clubhouse and Evolve should have much longer warranties but don't.
What's Included in the PVC Decking Warranty?
Not all warranties are equal. But most will include the following.
Structural
Structural is possibly the most important warranty. No one wants their decking to break underfoot.
PVC not containing any organic material will naturally last longer than most other decking. Resistant to mould and rot, the boards are warrantied to maintain their strength for the length of the warranty.
Fading
Fading is generally limited to less than 5 Delta-E. This is a very technical reference, but in simple terms, you will barely be able to see the difference between your old decking and a new one. Slight difference of course but not a huge one.
Staining
Most accidental spills on your deck will not stain PVC decking.
Just clean it off within 7 days to prevent damage and keep the warranty valid.
One exception is Zuri, which does not include staining, but their lab test shows that spills can be left for 30 days without damaging the decking. But unfortunately is not included in their warranty.
Regardless of which brand of PVC decking, most will be damaged by suntan lotion. Therefore is excluded from most warranties. Lather up so where else.
Prorated Replacement
Rarely a 100% replacement for the entire length of the warranty. The longer 50-year warranties are generally 100% for the first 10 years then decrease 10% every 4 years or so.
Shorter warranties like Zuri
have full replacement for structural failure the first 10 years and then decrease by 20% roughly every 3 years thereafter.
Replacement Labour
Fiberon and TimberTech Azek include labour when installed with a qualified installer.Not for the life of the warranty but after the initial installation.
Azek
places that between 2 and 7 years depending on the rating of the installer.
Fiberon
is more straightforward with a 5-year labour warranty when installed by a qualified installer.
Because of the length of their warranties covering all the essentials like structural, fading and staining with the added bonus of labour, Fiberon and TimberTech Azek have some of the best PVC decking warranties.
Most Durable PVC Decking
Almost all PVC claim to perform better than composite decking
. Which is true in many ways. PVC decking which does not contain organic material, is less likely to rot. That's an understatement. PVC decking cannot rot or grow mould or mildew.
The removal of organic material decreases the weight of the decking. Making moving the decking into place for construction easier.
PVC decking is also cooler to the touch than most other decking materials. Letting you enjoy being on your deck on those beautiful sunning days.
These are just a few advantages of PVC decking.
But not all PVC decking is created equally, and some will perform even better.  
Increase fire resistance
is one of the pluses of TimberTech Azek. Azek has a class A flame spread rating.
Fiberon Paramount PVC decking is close behind with a class B rating.
Considering that most composite decking has a class C fire rating this sets Azek apart from the crowd.
This Is not to say that Azek will not melt or burn. You still need to practise good fire practises with an Azek deck, but how fast an accidental fire spreads is reduced. Giving you time to react and hopefully put out the fire.
The high fire rating also makes Azek decking ideal for Wildland Urban Interface
(W.U.I). Minimizing the potential of your deck catching on fire and spreading to your house.
Zuri's Overperforming Cap
The capping of PVC decking helps it to look and perform better. Most PVC and composite decking are finished with a polymer cap. Protecting the board's core and improving appearance.
Zuri has gone one step further with-it unique capping process.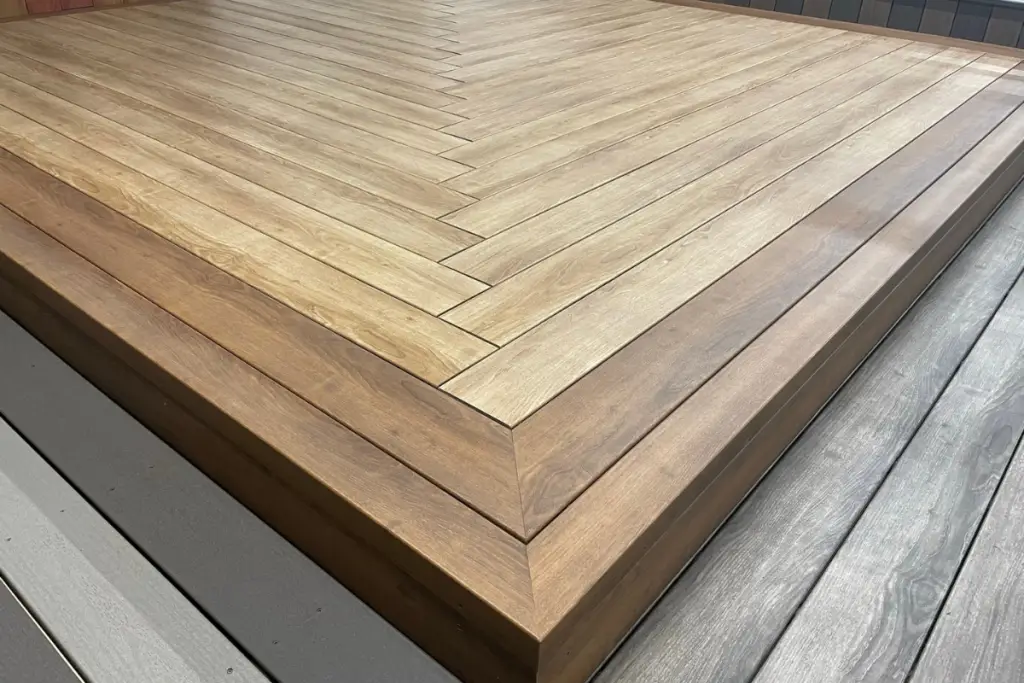 Zuri decking is finished similarly to laminate decking, with a clear acrylic coating over the PVC core. You have the core, which is made of extruded PVC, covered with an image of hardwood protected by a transparent acrylic layer. Acrylic is used to protect kayaks, recreational vehicles, and even optic lenses. Increasing the level of protection and durability.
In fact, studies have shown that Zuri decking
is 30% more durable and 5X more resistant to wear than composite decking.
"Warranty is the promise of how well your decking will perform,
durability is the result of testing and engineering."
I wished that Zuri warranty would match these lab results.
Conclusion of which PVC decking is Best
In our 5 categories, Zuri is in the top 3 of 3: Appearance, Traction, and Durability. But it falls short in price and warranty. 
TimberTech Azek scores 3.5 out of 5. The half-point is because it has 2 lines of PVC decking, Harvest and Vintage. Harvest allows it to score better for price, but Vintage is priced on the high end of decking.
But Azek's is rated high for appearance, warranty, and durability.
But falls short, no pun intended, is slip resistance. Gripping is better than most composites, but traction is lacking compared to other PVC decking.
Third on my list but still a really good board is Fiberon Paramount. Paramount has an incredible warranty and is priced right. Making it a good option if the budget is a little tight but you still want decking that will last.
Now to you to decide which PVC decking is right for you.